Driftless and Loving it for One Hundred and Two Dollars and Change!
by Matt Jennings
Fishing trips with, shall we say, "friends yet to be made" can be strangely unsettling before they happen, especially if it's with a fairly large group. So it was that I lay tossing and turning on an unrelentingly stiff mattress in Fennimore, Wisconsin praying for morning to break. Visions of snapping off Zen-like Voodoo casts that fall into the open mouths of waiting Brown Trout with surprisingly full bosoms mixed intolerably with the knowledge that last week the opener had been harshly fishless and brutally disappointing; a true early season nightmare resplendent with driving snow and sterile looking Wisconsin landscapes that don't stop at the waterline. In short I was stuck on the idea that all signs pointed to a long and unforgivable early season slump in the fishing karma of me and all around me.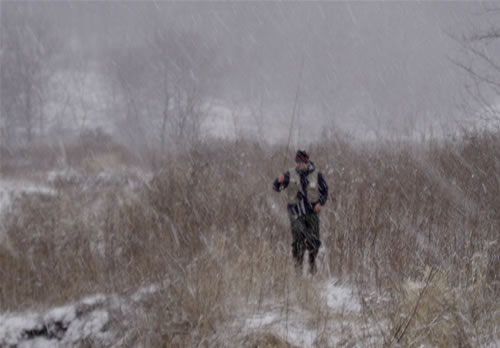 On the ride up my wife had called to tell me I had forgotten my lucky hat and all of my toiletries, not good news since I was nursing a sinus infection and felt sure I could use all the luck and cold medicine one could muster. My fishing partner Randy and I had started the trip about an hour later than we had intended and now had another long stop to replenish the supplies I had left on the counter at home, making us hours later than we had told everyone we would be. Just as I hung up the phone we saw multitudes of flashing lights on the horizon. As we passed by the scene of the emergency it seemed that the authorities were putting someone in medical distress onto a gurney and, worse, it looked like one of the guys we were going to meet. Further, it looked like the exact model and color vehicle the guy drives. So we drove on expecting to arrive to bad news.
Arrival at the hotel brought on no brighter outlook as all involved were apparently asleep and we were outside the loop, not usually a great way to start a fishing trip with a group you are just newly associated with. So we partook in a couple shots of the great equalizer before heading off to bed, theoretically relaxing the nerves but instead inflaming the gut. The outlook for this trip was as rotten as my stomach, I kept thinking all night, and so it was I tossed and turned.
The first voice I heard breaking through the haze of morning was one I recognized, the Georgia twang of the groups' organizer Mark, hallelujah! Houston we have contact, we have not driven all this way out to the middle of nowhere to chase our tails and try and find where everyone is. The thing about Wisconsin is there are hundreds of possible streams in the area where one could chase trout. Finding someone on a stream by chance is not an inspiring proposition. Having so many perfect little spring creeks so close together means people generally move around often throughout the day, further complicating matters. I tossed a pillow across the room at a snoring Randy as I belted the pants and headed for the lobby. Sure enough there everyone was except Jim and his son-in-law Mon, and I was reassured that in fact everyone had made it unscathed. There was even breakfast. Things were seemingly turning around. After groggy conversation it was decided that we would all reconvene at my least favorite stream as soon as haste would allow, and try and get a few casts in before a workday for the local Trout Unlimited chapter. Happily those who had come up early had fished it the evening before, and were still wearing their Cheshire Cat smiles over their hangovers.
Less than an hour later we were all on Castle Rock Creek at an access I hadn't ever tried, and Mark said "That's pretty technical right there" pointing at a piece of water near the bridge as he walked on past. Something about this piece of water made my heart leap towards it. I instinctively crouched and fired off a Zen-like Voodoo cast that landed in a bush on the opposite side of the run and then miraculously after a short tug dropped directly towards the darkest deadliest trout water on the planet, and into the waiting mouth of a surprisingly agreeable Brown Trout. I had taken the express train to the top of the emotional landscape called fly fishing on the first cast, and from there the view was grand for the rest of the trip. Didn't matter what happened next, or what happened last week, just bare and beat the chest, for this is why you take the chances, make the excuses, an abandon the family. Down one hill and up the next, it mattered little, for after a long winter I was ready to ride a real live trout fishing trip.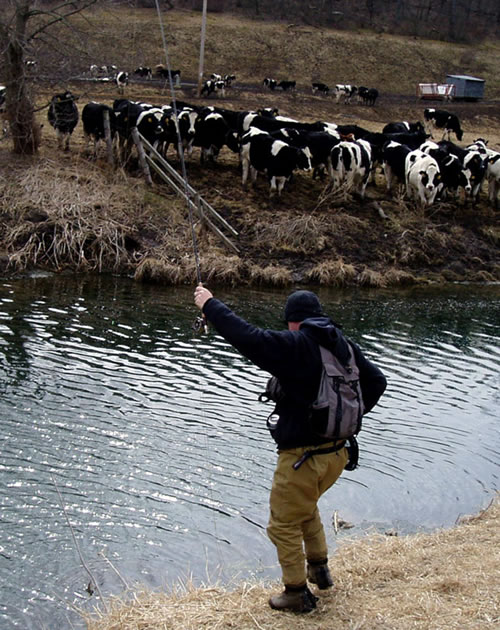 So it was that we arrived at the Trout Unlimited workday with openly joyful enthusiasm, ready to give back, well reminded of what this kind of work can culminate towards. Cutting and stacking willows is not such bad work with nice caring people and a promise of the kind of Brats that only Wisconsoners can conjure up. Even the sun was warm and welcoming as the temperatures rose into the sixties and I broke a sweat for the first time this calendar year. Lots of talk of brookies and beavers over potato salad confirmed my belief that good places are made mostly of good people.
We closed the workday down with handshakes, thanks, and goodbyes to the Harry and Laura Nohr chapter folks and headed over one valley to check out another similar piece of paradise with a few less people. The trip would have been easy enough had there been a couple less switchbacks and turnabouts to confuse the navigator , but somehow the plan kept changing till we got exactly where the trout gods wanted us, and then we just got out and fished. Unfortunately, the scenery and stories were just a little better than the fishing, but noone in our group seemed to mind. Only Jeff had pretty much fairly fooled fish in big numbers everywhere we went, so he stepped back and slowed willingly to stay in touch with the rest of the group. Besides, on the first warm day of spring after a way too long winter, just sitting on a tailgate by a picturesque stream passing the flask and snacks and sharing fishing can constitute fishing, it's in the rules way at the back under "Traditions."
We hit a couple more pieces of land permanently put aside just for dreamers like us and the fish we dream about, all looked great and some holes really were, but all fished just fine for this group. Everything we hit is in bold type in the Wisconsin guide books, and none of it is really secret, but none of it is big enough to advertise over any other piece of water in that area, so the names are just not that important.
The day ended with good beers and excellent food at The Eagle Creek Inn in Fennimore, and then culminated in fly tying and next day plan making. It was at beers just before dinner that the group had recaught up with Jim and Mon who had found the stream that had kept their fingers busy wrapping and trimming all winter long. It must have been pretty close to how they had hoped, and so they just stayed all day playing tag with the local residents, and hopping from pool to pool. Chris also joined us there at dinner after a day of head clearing solo fishing, that needed no real specifics to transfer its importance. Somewhere after a little sharing of patterns and stories of trips past this fine day just ground to an extra gratifying plop into bed around midnight.
So it was that plenty of fish were caught by all but one member of the party, but he's young and there are still many fish in his future, so no tears for Michael were shed. Only wishes that we could somehow regain that new fly fishers wonder that lures us all in, those feelings measured more in good casts and well crafted knots than in numbers of fish fooled. Besides, tomorrow was only hours away and with it would come fish for him, and all of us.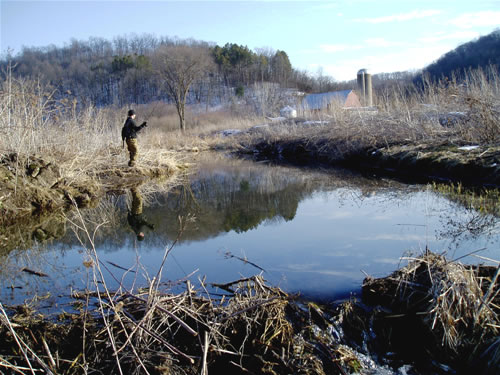 Sunday dawned as usual on these trips many miles from home, as just a half day because homes and jobs always lay in wait. We all agreed that the closest stream was perhaps the best , and it would prove a wise choice on this cold and blustery day. Deep nymphing and streamers of alarming varieties proved plenty interesting enough to the fish to garnish a notch or two on every member of the party's fishing bedpost. We finished the flurries of fish catching with a leisurely pot luck lunch of whatever people could produce from their trunks, coolers, or floorboards. Nobody really wanted to leave, and so we stretched it out by laying in the weeds and watching Mark throw cheese curds at the herd of curious cows that had gathered across the creek to eyeball us and see what we were eating. It turns out tcows seriously consider cheese curds as cannibalism, or at least uninteresting. Besides, Randy had found a mini hot streak on the deep nymphing rig and took three browns while we watched. Then I took one which was so exciting everyone said goodbye and finally headed home. Well, that left just two of us dreaming of hatches and big fish. As Michael was headed over the bluff to his car and towards the gathering rain clouds, I said to Randy " Won't it be funny when we hit a hatch?" So we hiked around the corner and into a run of rising fish giddy to feed on the new bounty of spring. We looked at each other, changed to micro dry flies, pulled in our flaps and dropped to our stealth crouch, then waddled and crawled to positions just below large rising fish and snapped off Zen-like Voodoo casts into the open mouths of waiting brown trout. Glad to have paid the whole one hundred and two dollars and change necessary to get all the ups and downs a trip to the Driftless in early spring can bring.
Note: Matt Jennings is a past president of CTFF now residing near Chicago, IL