Fun Fish Day 2006
by Michael Brown
Fun Fish Day 2006 was held at TPWD's A.E. Wood Fish Hatchery in San Marcos on January 27, 2006. It was a very enjoyable event. This event was a joint effort of the San Marcos Parks and Recreation Department and TPWD, along with volunteers from CTFF and Texas State University, San Marcos. This annual event gives San Marcos CISD students, some with physical or mental challenges, a field trip to the hatchery, where they learn about what the hatchery does, as well as the opportunity to fish for rainbow trout. For some, the opportunity to catch their first fish.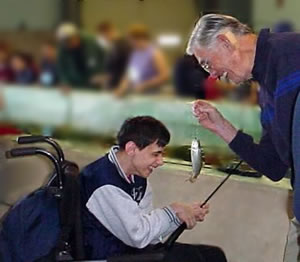 CTFF was represented by Brian Watson, Jaci and Jesse Huth, Jason, Gary Aalen, and Michael Brown (Bill Wofford was out of the country but with us in spirit). This has become an annual happening for some of us. I make it a point to schedule leave for the last Friday in January, as to not miss the opportunity to play some small role in bringing a smile to a child's face. Sure, you have to learn to duck quickly when a rod is unexpectantly whipped around, be good at untangling lines, telling someone where to cast, and unhooking fish. No wonder why those who have guided do so well here.
I'm all the volunteers will vouch for me when I say it's difficult to type what's in my heart about the memories forged there. One of the most rewarding things about being a volunteer each year is seeing the students grow and make progress. You'll have to ask Bill Wofford why the phrase "Poor turkey!" makes him smile broadly.