The Realities of "Go-To" and Ignored Flies
by Kyle Kenter
"God, it feels great to be home!" I say to myself as I assemble the 5wt and get my tackle together, tie on my tippet, and of course my go to bait -- the legendary white/olive 4" deceiver that I relentlessly used to slaughter the bass in this golf course pond every evening of this past summer. Just looking at this fly shoots vivid images through my head -- Strip, Strip, Strip, big wake closing in on my fly and "BAM!" No matter how fast I would strip that fly, the "big wake" would always catch up and demolish my deceiver.
I felt very confident as I walked through the finely mowed grass to the pond, because, before this day, I had always hooked up with numerous, solid bass on every trip. It was as typical Texas December day, sunny and about 75 degrees. I knew the bass would be up in the shallows enjoying the "winter heat" and they were. I walk over to my favorite spot, and stay about 15 feet off of the bank as to not scare any fish. I cast and grin as I see the fly land right where I wanted it to, about 10 feet out from the bank along the bending shoreline. As soon as the fly hits the water, there are two eruptions not 6 feet away- clearly two interested bass going to see what all the commotion is about. I waited in anticipation, positive that I would be hooked up in a matter of seconds! Nothing. This may not be such a big deal to some, but I was in disbelief. Never had I had a bass turn down this fly on this lake, it was that simple. The next 15 minutes were more of the same. I managed to hook up with a small bass after casting into a spot where bass had just blown up on a school of baitfish, which never fails to produce a fish. I decided that maybe my deceiver just wasn't having a good day, and tied on a green/white sea-ducer -- another awesome fly on this pond, nearly as productive as the deceiver. I wasn't as shocked when the sea-ducer produced the same results, the bass were leaving their posts to get a closer look, then laughing in my face as they steered away from my fly. I was stumped.
I started to look through my fly box, for anything that didn't mimic a large baitfish. I had no such thing, and for good reason too. Before this I had never needed anything else. I started thinking, "If the fish are active, and they don't want anything to do with my minnow imitations, what else would they want?" I remembered I still had my "river box" in the truck, full of assorted Matt's Bugs, small Clousers on one side and top-water terrestrial bugs on the other. I decide to pull out by biggest, size 6 "original" Matt's Bug. A little more success with this fly, caught a couple decent bass with small twitches, but it was still obvious that there were many fish ignoring me.
Then it hit me. I remembered on my way out of town I had stopped by Rio Vista to hang out and say adios to Bill while he was fishing the dam. He was changing flies when I commented on how good one of his "chili-bugs" with brass eyes looked. Anyone that has the privilege to know this man knows what he did next, of course he gave me one. Although I figured this size 8 chili-bug might be small for what I wanted to use it for, I decided that it was the furthest thing I had from a baitfish pattern. I tied it on and made a cast to where I knew the fish were holding, letting it sink to the bottom. I figured sharp short strips would best imitate a crawfish so that is precisely what I did. I tried to keep my line tight as I paused and let the fly sink back to the bottom. Started the next set of retrieve when I felt quite a bit more weight than the chili-bug, and quickly set the hook on an unsuspecting bass. After that, it was a fish on almost every cast, even after missing the hook set numerous times, the fish would always come back for more.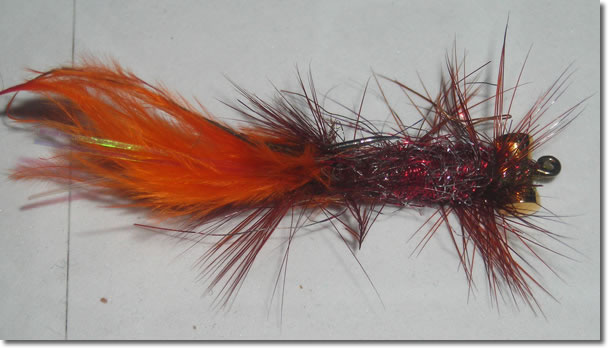 I will choose to blame the numerous missed fish on the small hook I was using for the large bass.. as for evidence, every fish I managed to catch was hooked in the gummy area on the edge of the lower jaw. Anyways, I managed to catch and release over 25 bass in the ½ - 3 lb range in the hour left before sundown, making for an awesome evening of fishing. It is amazing how fish will completely ignore a perfectly productive fly until it is exactly what they want. Needless to say, I have since tied a few chili-bugs for my box, and they have earned my respect as part of the proven "fish-catching" flies.
So, the next time fish won't cooperate with any of your "go-to" flies, try one of those patterns that sits in your box but never gets a chance to catch a fish. You know you have one.

Note: Kyle Kenter is a member of CTFF who while not attending classes at Texas State can often be found on a local body of water... fishing.