One weights and BBQ Spaghetti
by Chris Cohen
Ever take a three state detour on the way to one of your favorite trout rivers? No? Then you might want to consider doing something unorthodox like that.
For me a fishing trip is not just about the fishing. I know I am going to catch fish, so for me it is about getting into the car with a good friend and just going. Does not really matter how you get there. Just go. Stop when you want to stop. See what you want to see.
This particular trip started almost a year ago. I was watching a show on TV about great BBQ locations that included two in Lockhart. While waiting for the Lockhart BBQs to come on they did a segment on Interstate BBQ in Memphis. Of course the ribs looked fantastic, but what really stuck with me was a big ol' plate of BBQ spaghetti. Yep, BBQ spaghetti! From that moment on I just had to try it.
After moving, and just day to day life it was time to go on a fishing trip. A trout trip to be exact. So we decided that a Northern Arkansas trip was in order. Not only is there great fishing to be had, there are real fly shops and friends that needed to be visited as well.
Leave work early and head to Texarkana? Of course not!! Head to Tennessee via Louisiana and Mississippi. (hint: DO NOT go past the boardwalk in Shreveport. Trust me on this.) There was BBQ spaghetti to be had!!
On the way north we spotted a truck that was pulling a raft. They were definitely going fly fishing somewhere. When we pulled in for gas, there was the truck and raft. We had to find out if he was coming or going. As it turned out he was on his way to Dallas to pick up a buddy and then they too were heading to the Norfolk River in Northern Arkansas. Wished each other luck and we were off again. Until it was time for a steak dinner that is.
The first night we made it past Shreveport (barely) and found a less then spectacular room at the Days Inn. It was the only room left so we had to take it. Up early the next morning to get a good start to the day? Not quite. One would think that getting air in a tire would be as simple as putting quarters in a machine. Three gas stations and about three dollars in quarters later we were finally on the way to Memphis. BBQ spaghetti here I come. Should be smooth sailing to lunch.
Wrong again. The GPS gave out and we were forced to use paper maps! The horror!! (Ever try to fold one?)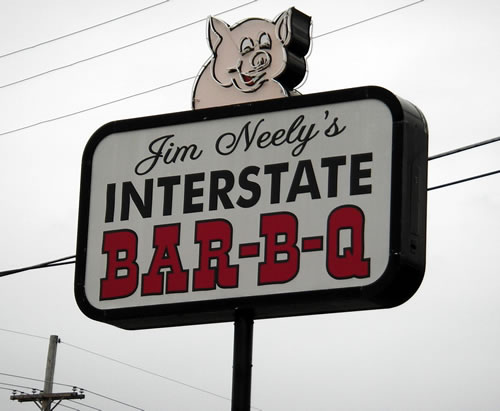 However despite our handicap we made it to Interstate BBQ. I felt like a little kid anticipating Christmas morning. After parking and walking in, there is was!!! BBQ spaghetti!!! Another customer actually had a plate of it. Ordering some Memphis style ribs, and of course a plate of BBQ spaghetti, what was the best thing I had for lunch? BBQ beans. They were the best BBQ beans I may have ever had. The ribs were every bit as good as expected. And the BBQ spaghetti? It did not disappoint. It was actually very good. The best way I can describe it is sweet spaghetti. I can now die a happy man. (Except for the Big Butt Bacon episode. Another story.)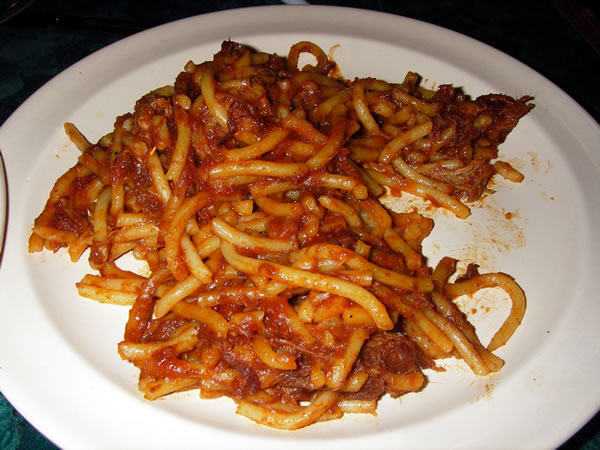 After being stuffed from lunch, it was decided that a new GPS unit was needed. Where do we head to? Bass Pro Shop of course. They are always easy to find, lots of signs and all. Wrong again!! Oh we followed all the signs, the problem were the brochure and billboards all had exit 12 on them. We found 12A, 12B, 12C and then 13. What?!! After turning around and guessing on a direction we finally found it. After spending time looking in the fly shop and buying some new gloves and some leaders, and yes a new GPS; we were finally on our way out of Memphis. (Wondering if we should have went to Graceland? Hmm…next trip maybe.)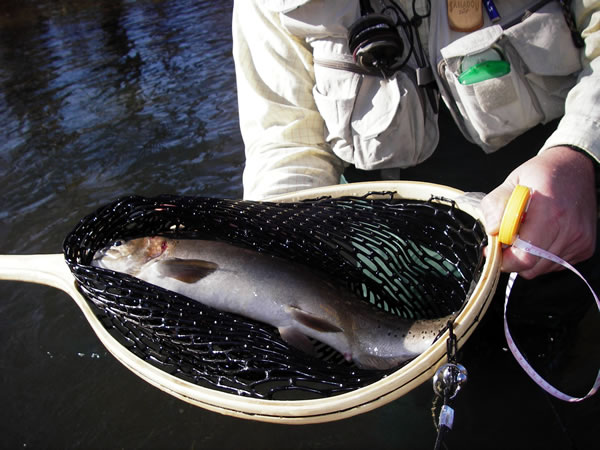 The second night we made it to Mammoth Springs. However it was too late to fish. So what do you do the night before going to the Spring River where it is very possible to catch 20" plus trout? Yep, you're right. Rig up the one weight rods. (warning: be careful of ceiling fans) It sure was nice to be rigged up and put the waders on in the room as it was about 30 degrees out at 7:00 am. Got to the river about 7:30 or so and there were a few people fishing. Mostly bait casters. Immediately noticed rises all over the place. Being one that will not pass up a chance to fish a dry fly, I tied on a small EHC and proceeded to catch my first fish on a one weight. A beautiful 6" brown trout. (love brown trout) After catching a few more smallish rainbows on the EHC and seeing Mike catching some fish on 12X tippet nymphing, I decided to tie on a small Pheasant Tail. After catching some more smallish fish, although one was 12" or so, I decided to make my way to where Mike was. Standing in the middle of the river having some luck, Mike decided to take off the 12X and tie on a Matt's Bug. Great idea. A couple of casts later and all I heard was "Whoa!!!" I look over and see the line ripping off his one weight. We both knew it was a good fish. Knowing what rod he was using I decided he probably would like some help landing it. I made my way over and after a few more nice runs helped net a gorgeous 18" Rainbow. On a one weight. After taking pictures and releasing it, Mike proceeds to keep catching 16" plus fish. What was I doing you ask? Untangling my birds nest that was created by helping a friend catch a nice fish. (Would I do it again? Hmm...)
After sitting on a rock and putting a new leader and 7X tippet on I decided I needed to tie on a Matt's Bug. Oh yeah, that box is in the car. Mike gave me one of his and I proceeded to lose it in two casts. (Never said I was perfect) So instead of asking for another Bug, I asked for the keys. After making my across the river and climbing the rock to get out, something felt a bit strange. Great; the felt on my boot was flapping. The felt on the front of my boot came loose. This is the same boot that the felt on the back of the boot came loose last fishing trip. At least I still have one good boot. Spoke too soon. The grommet on the "good" boot decided to break. Give up fishing? No. Change boots? Never!! Grabbed my box of Matt's Bugs and head back to the river. Felt flapping and all. When two girls are laughing at your boots it just makes you want to wear them more.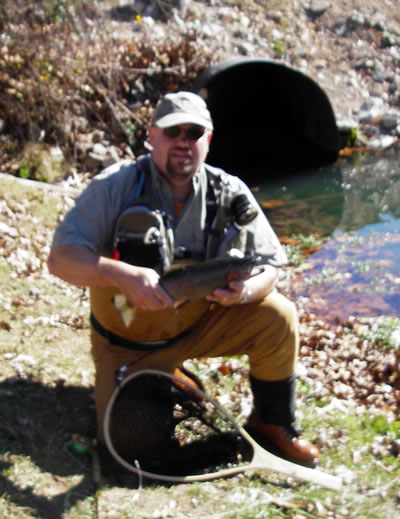 I tied on my Matt's Bug and on the first cast a wonderful 18" Rainbow of my own. On a one weight. No matter what happens the rest of the way, it is already a successful trip. After catching about fifteen more nice fish the fish seem to cool off on the Matt's Bug. I should mention that Mike was catching just as many fish on his Matt's Bug. And his one weight. Do we move to another spot? Bite your tongue. Tie on a Chili Bug. Once we did that we started to slam them again. After about 25 fish apiece Mike actually got tired of catching these fish and went off to explore the dam area. I could not pull myself away from these fish. The Chili Bug started to cool off and what did I do? Move to another spot? Never!! I tied on the Matt's Bug and started slamming them again. As I am doing this, I look down and see Mike in a big battle. I mentioned to a fellow fisher that it looked like Mike was into a nice fish. His words were "nah, theren't no trout done over there" (That was one articulate fellow). Well for there being no trout done over there, Mike sure landed a wonderful 22" Rainbow. On a one weight.
I landed about ten to fifteen more fish and two locals came over and had to ask my secret fly. After telling them and then showing them they asked if they could by some. "No, but you can have some." was my reply. They were so grateful that they gave me their secret fly. (Does that make any sense to anyone? My fly works, theirs didn't. Hmm…) After speaking with them I was pretty much done fishing. I had just caught enough fish for the day. Mike must have felt the same. He was on his way back and I could tell what he was thinking. Next river. It was only 12:30. But after all said and done, we both had well over fifty fish day, just after noon, and on one weights. Does it get any better?
So we packed up the car and headed to Mountain Home and the Norfolk River. Visited a fly shop or two. Looked for a lodge for an outing in February. Checked out the river. Unbelievable midge hatch. Mike cannot let rising trout go uncaught and proceeded to catch a few just before dark. Had a great all you can eat buffet dinner and watched the Cowboys win. Not a bad Sunday if I say so myself.
Woke up Monday morning ready to fish the Norfolk. Being Monday we did not expect many people on the river. Got to the ramp and saw a restroom. (Remember the all you can eat buffet?) "Pull in there!! NOW!! After inspecting the facilities, I walked out and noticed a familiar vehicle and raft. It was the same guy from the gas station near Austin. (Wonder if they had the same buffet) The fly fishing community sure is small. After chatting with them we head down to the river. Strange. They are having an oxygenation problem on the river and actually have a generator pumping oxygen into the river. One problem; it was loud!!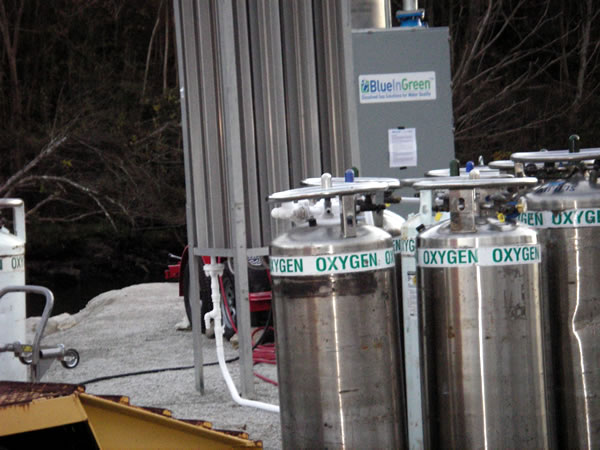 As we were rigging up I saw a fellow catch a nice big brown from a riffle. I almost ran down to the river. We went to a spot the guy at the fly shop said always holds brookies. (Don't believe fly shop guys) After a miss on a Matt's Bug and not much else, Mike headed for another section of the river. Cannot be sure that he said anything to me or not. Did I mention it was loud?
Remembering the midge hatch the night before, I tied on a Zebra midge. I landed several other fish, nothing like the day before on the Spring River. Then the guy that caught the nice brown snagged the bottom and lost his last egg pattern. So he tied on his own midge and proceeded to land a really nice brown trout. But what was in its mouth? No, it could not be. But it was. There was his egg that he lost just a few casts before.
After another nice day on the river, catching three out of the four for a slam, we decided that we had a great trip and that it was indeed time to head home.
Was this trip a fishing trip? Sure, but a fishing trip can be so much more then fishing. During our four day, six state trip, we were able to visit three states we have never been to before. Eat some food that we have never tried. Caught fish on a rod that was previously fishless. All in all; had a blast just joking around with each other.
Just another fishing trip.
I sure cannot wait until the next one.
Note: Chris Cohen lives in Lockhart with his wife and two kids. He often ponders if there's a better all around fly than the bug.