Around the Next Bend
by Michael Brown
The year 2004 will be memorable for me two reasons, primarily people and places. This makes it similar to those that came before it and those that will follow. The memories, however, are what make it unique, and some of those would be considered "learning experiences."
During a trip to Tahlequah, Oklahoma, to attend the Smallmouth Rendezvous and Fly Tying Extravaganza, my friend Scott Kelley (of the Fort Worth Fly Fishers) and I decided to take a break from tying and fish Barren Fork Creek. When we arrived at the creek we found that it was higher than normal for May, due to the heavy rains of the week before. It was wadeable to a small extent, we'd cast and cast again not finding any willing fish. We worked upstream as far as we could and found that the water got deeper than we wanted to wade in the strong current. We noticed a trail on the bank and decided to take it upstream in search of another entry point ... when we went upstream as far as the trail would allow, we spotted several nice-sized spotted bass and bluegill holding in a deep eddy but no way of casting to them or entering the stream. Encouraged by our observation of fish, we spotted a possible access point upstream that we thought we could get to from the opposite bank, we quickly retraced our steps and forded the stream where we originally got in. On our way to where we thought we could ford the stream we were met with a cane break. We thought to ourselves, "how hard can it be to cut through this?" So we attempted to do so and made slow but steady progress, yet we found our potential crossing point to be out-of-reach. As luck would have it, we heard the rumble of thunder in the distance, and decided to make a hasty retreat. This is when we found out how easy it is to get disoriented in a cane break, and that even a short distance isn't so short. You cannot do anything quick in a cane break. We returned to the community center, looking like we came out of a war zone ... other friends had a good laugh and we just smiled.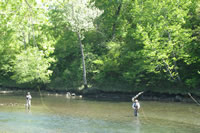 On a trip to the Norfork River just east of Mountain Home, Arkansas, I witnessed a pair of anglers catch fish after fish, while I would inconsistently have bumps and a few hook-ups, even though I was using the exact same pattern. Since it was time for lunch, I decided to eat my sandwich and observe what they were doing... the secret turned out to be a longer leader and a bit more weight. After lunch, I added tippet and weight and caught a few fish, and began to think, "This is going to be great!" of course being a tailwater fishery, the release siren wailed, driving us from the water... I had to wait for the next morning to fish... I then learned that patience can be more than a virtue, it can be downright fishy.
Ken Jones had often commented that "there's nothing like fly fishing at night." In the past I've fished for a couple hours after dark, not wanting to go home after a day's fishing, or fishing the hexegenia hatch on the Lower Mountain Fork River... but I had never started fishing at 2:00 a.m. In October, I traveled to Lake Taneycomo, just south of Branson, Missouri, and met up with Leonard Keeney, a friend of mine from Joplin, Missouri, who has fished this tailwater nearly his entire life, and made the suggestion to go night fishing for brown trout. He guided me to one of his favorite spots, a deep hole just downstream of Hatchery Outlet #3, with the added advise of not taking another step downstream once we were in position to cast due to the ledge dropping into several feet of water. Leonard tied on a white wooly bugger and proceeded to catch several rainbows during the first hour or so, I had nary a bump fishing a Matt's Bug, apparently the moon was in the phase where white presented a better silhouette in the darkness than did darker colors. Being the gracious host Leonard gave me one of his flies to try, and soon I was having strikes on a regular basis, and the occasional hookup. You'd think that a moonless night sky wouldn't provide much light to fish with, but after a few minutes of fishing, you learn to trust your senses of touch and hearing to let you know how you're doing... "it feels right," and "it sounds right" take on new meanings.
I also had the opportunity visit the Jennings family, near Chicago, and explore the area and Wisconsin. It was an experience; Wisconsin is diverse in its natural beauty, with rolling hills, rivers and creeks of all sizes, aspen groves, pasturelands, not to mention its flora and fauna. It was nice to have Matt guide Paul Muller and myself. (We also have incriminating photos of Paul being nice to a cat.)
My journeys around the next bend have provided me with opportunities to explore new places, meet interesting people, renew old friendships, and contemplate what's "really important." I look forward to seeing what lies ahead.
Note: This column originally appeared in our January 2005 newsletter.