The Central Texas Flyfishers of San Marcos, Texas is affiliated with the Federation of Fly Fishers, as well as its Southern Council. The club has members of all ages and abilities, from many backgrounds.
December 2013
Fly Fishing Around the Next Bend
by Michael Brown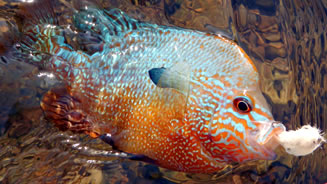 Here in central Texas we're fortunate to live in a climate that allows us to fish locally year round. Sure we have the extremes in weather from being chilled while fishing for trout in the winter to experiencing summer's heat while on our favorite waters. We could argue that there's more than enough places to fish in the hill country that could keep us occupied indefinitely. We tend to ignore that logic and seek out new and different places to fish, both near and far. Perhaps this condition exists as a result of technology, and the ease that information is shared with us via friends, television shows, websites, and publications, among other things. We do not deny that this condition exists and will seek additional ways to plan our travels. Hopefully, the following tips will assist you in this pursuit. | Continue Article
Red-Hot Reds
by Mike Schlimgen
Grabbed my 8wt and some saltwater flies and headed out for the coast with my fishing partner, Jim Darnell. It had been so long since I had fished the bays that I jokingly asked him, "The redfish are the ones with the spots on the tails, right?" Funny thing is, the first redfish I caught had no spots anywhere! The first one either of us had ever seen. Must be kinda rare.
We launched the mother ship, an 18' Kenner, into Corpus Christi bay at first light with our kayaks onboard. As we approached the shallow marshland, we anchored the boat and lowered the kayaks overboard for our paddle. It was seven in the morning and already the water was hot and the rising sun promised another scorcher. We lathered up with sunscreen and loaded up with water bottles for our version of a water safari. | Continue Article