Fun Fish Day 2003
On January 31, 2003, the San Marcos Parks and Recreation Department sponsored a "Fun Fish Day" for physically and developmentally challenged students of the San Marcos Independent School District, at TPWD's A. E. Wood Fish Hatchery in San Marcos. We were there to lend a hand and help the kids catch smiles and a few fish.
Photography by Bill Wofford.
(Please note the pictures on this page might take some time to load.)

Brian Watson demonstrating fly fishing to the morning group of participants.
Steve and Ann Batchelor use teamwork to brighten this lucky fisher's day.
Johnny Quiroz II, works his magic helping Betsey catch a fish during the afternoon session.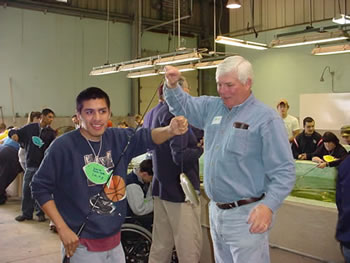 Steve Batchelor with Jessie, with whom he also
shared smiles with at the 2002 Fun Fish Day.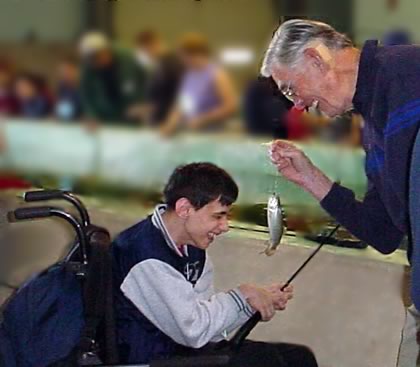 Bill Webb and friend... it was an understatement about smiles
being only worth a thousand words.